Canadian pianist and electronic composer John Kameel Farah will perform a mixture of 16th century keyboard pieces, mixed with his dynamic and surrealistic compositions for piano and electronics, interspersed with solo piano improvisations set in a style he calls "The Atonal Maqam" in which he slowly unearths chordal structures and harmonies, like an archaeologist gently dusting off some relic of another age."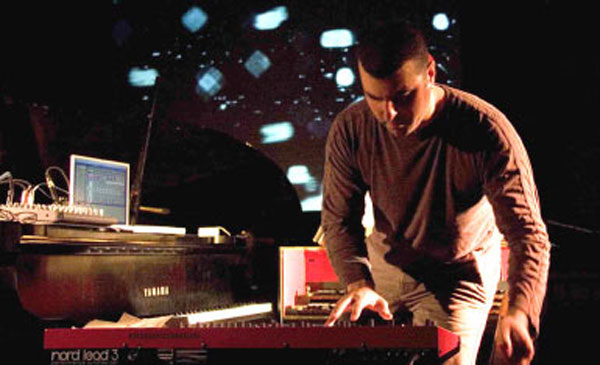 Behind a stage set up that can include piano, Baroque harpsichords, synthesizers, and computers, John Kameel Farah cuts an impressive and unforgettable figure in solo performance. Farah works in a wide open creative field through which he can combine, juxtapose, and transform the musics that interest him most: Early and Baroque keyboard music, ambient minimalism, Middle-Eastern music, Electronic Dance Music, and electroacoustics.
In performance, Farah ranges all over his instruments while setting up textures and countertextures, moving deftly from acoustic to electronic episodes, and testing and deploying his materials with a mixture of scientific care and wild abandon. Improvisation is a key working method, both at his various keyboards and in the execution of electronic beats and processes that are equally at the core of his approach.
Frenetic and contemplative in turn, Farah's music is underpinned by a deep emotional and spiritual reservoir which, when framed through his exceptional musicality and virtuosic instrumental command, packs his highly original solo music with considerable and undeniable clout.
– Guelph Jazz Festival, Canada