RAM/Random Access Memory
is a shift from a permanent state of saving to a permanent state of transmission.
RAM travels back and forth in time finding artistic, technical, psychological, sociological, philosophical,
political, retrospective and futuristic approaches. RAM applies them to the growing collection and overlays of materialized data.
RAM creates an environment using reconfiguration, memory testing, visualization, research, transforming, transmitting and linking stored data information.
RAM creates and recreates new data and experimental ways of accessing. RAM is aware of the outside and the context. RAM claims freedom for coincidental associations and encounters.
RAM is an art research project with an open end. Perceiving RAM is real time.
RAM SEGMENT I
Archive
With its first Segment RAM frames practices of archiving. During the three days of the event the archive of over 150 artists,
collected by berlinerpool, will be on display and continuously in active use by visitors as well as members. Through research,
open call and participatory actions berlinerpool functions as a Memory Management Unit. Focus is on researching the vitality
of stored data by creating an open exchange of the file content. Data can be added, substracted and edited by berlinerpool members and is accessible to the public.
berlinerpools archive (Archeío(n) gr.) is not referring to the common sense as being a place for conservation or a chronotopos, it sees itself as a media and tool.
Instead of using berlinerpool in a traditional way as arche – a space for a specific collection in a certain hierarchical order, it can be perceived as an arch, a passage or pathway to various networks of contexts. It implements mobility, not only by its changing locations but also by a circulating content. berlinerpool works in a democratic way. Members are deciding about new members. The content of an archive file is temporary and not under control of the archive responsibles. It is based upon the artists decisions. Its vital nature continuously has to be reviewed and renewed due to the quest of archive users.
In these framework Segment I additionally will give insight in projects presented from curator Eleonora Farina (I) and philosopher and writer Jonathan Grey (UK) from Open Knowledge Foundation (www.okfn.org)
Further investigations via performance art, video/film screening, improvised and a life streamed lecture will focus memory – collecting/tracking/tracing/mapping and
data – reconfiguration/visualisation/decoding
a project by Tatjana Fell & Andrzej Raszyk
a production by www.arttransponder.net & www.berlinerpool.de
Please see details of the 3-day programm under:
www.ram-project.net
Andromeda Mega Express Orchestra
www.andromedameo.com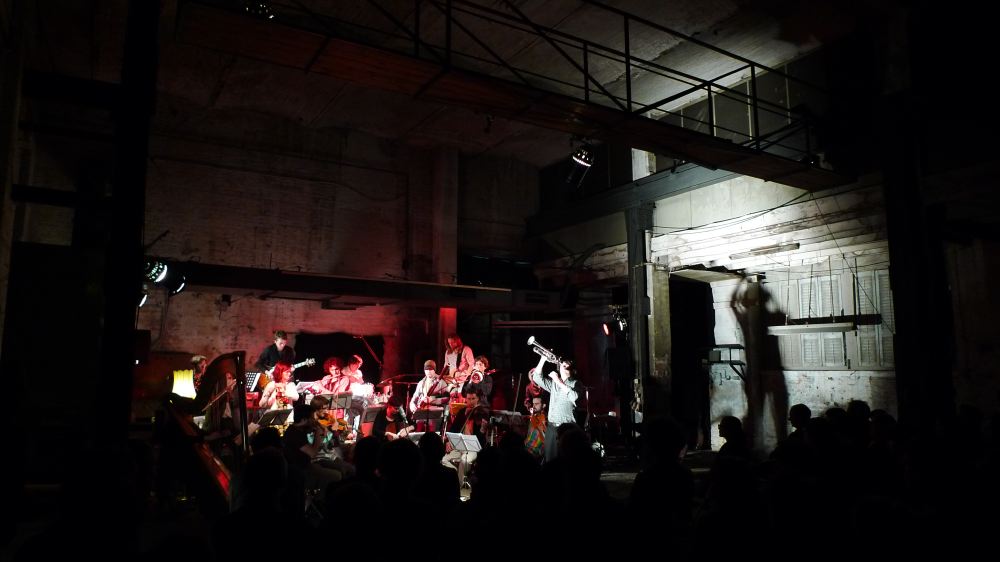 Oliver Roth (Flöte, Alt-Flöte) | Laure Mourot (Flöte, Alt-Flöte, Piccolo-Flöte) | Daniel Glatzel (Komposition, Tenor Sax, Klarinette, Bassklarinette) | Sebastian Hägele (Fagott) | Johannes Schleiermacher (Bariton Sax, Tenor Sax, Klarinette, Flöte) | Ritsche Koch (Trompete) Johannes Lauer (Posaune) | Karl Ivar Refseth (Vibraphon, Percussion) | Jörg Hochapfel (Tasteninstrumente) | Anna Viechtl (Harfe) | Kalle Zeier (Gitarre) | Andi Lang (Kontrabass) | Andi Haberl (Schlagzeug) | Matthew Lonson (Violine) | Grégoire Simon (Violine) | Johannes Pennetzdorfer (Bratsche, Blockflöte) | Martin Stupka (Bratsche) | Isabelle Klemt (Cello)
FLOCKS & SHOALS give name to a collective of artists, engaged on the process of constructing (image, sound and sensitive) space in real time.
It consists of dance performance development, regarding the research on group presence, within states of enlighten and darkness; a choreographic movement research, based on the analysis and fiction of animal group displacement's inherent movement, while a proposal of recognition of the "space between" contexts and production of meaning in relation with an audience.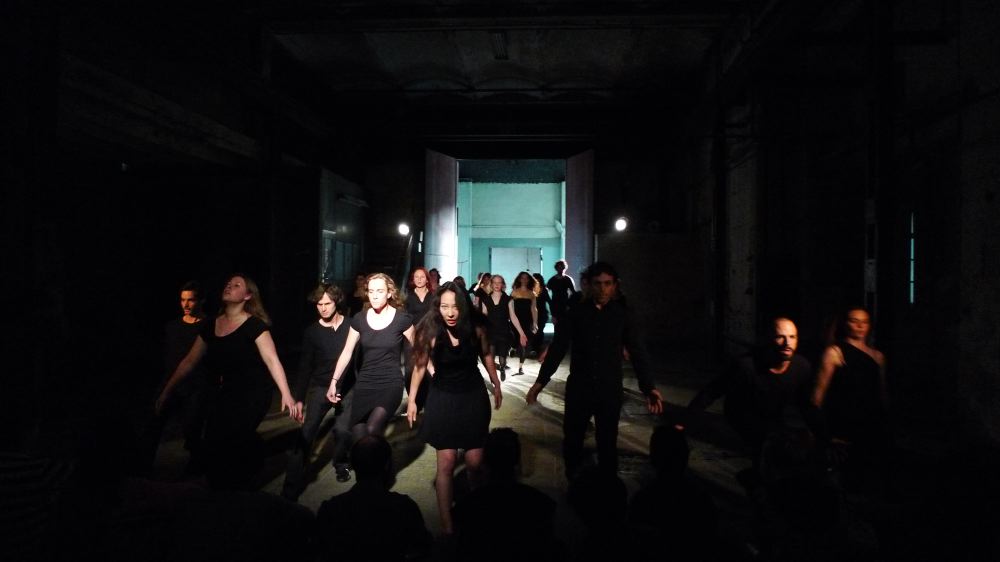 The intention of establishing a cyclic and uninterrupted dynamic, enables the changing/triggering of perception in the elasticity of spatio-temporal contents, which support the collective moment, generated by a group, where the global happening, is greater than the sum of its parts.
www.flocksandshoals.blockspot.com